Dunforce.com
Finding simplicity in a complex product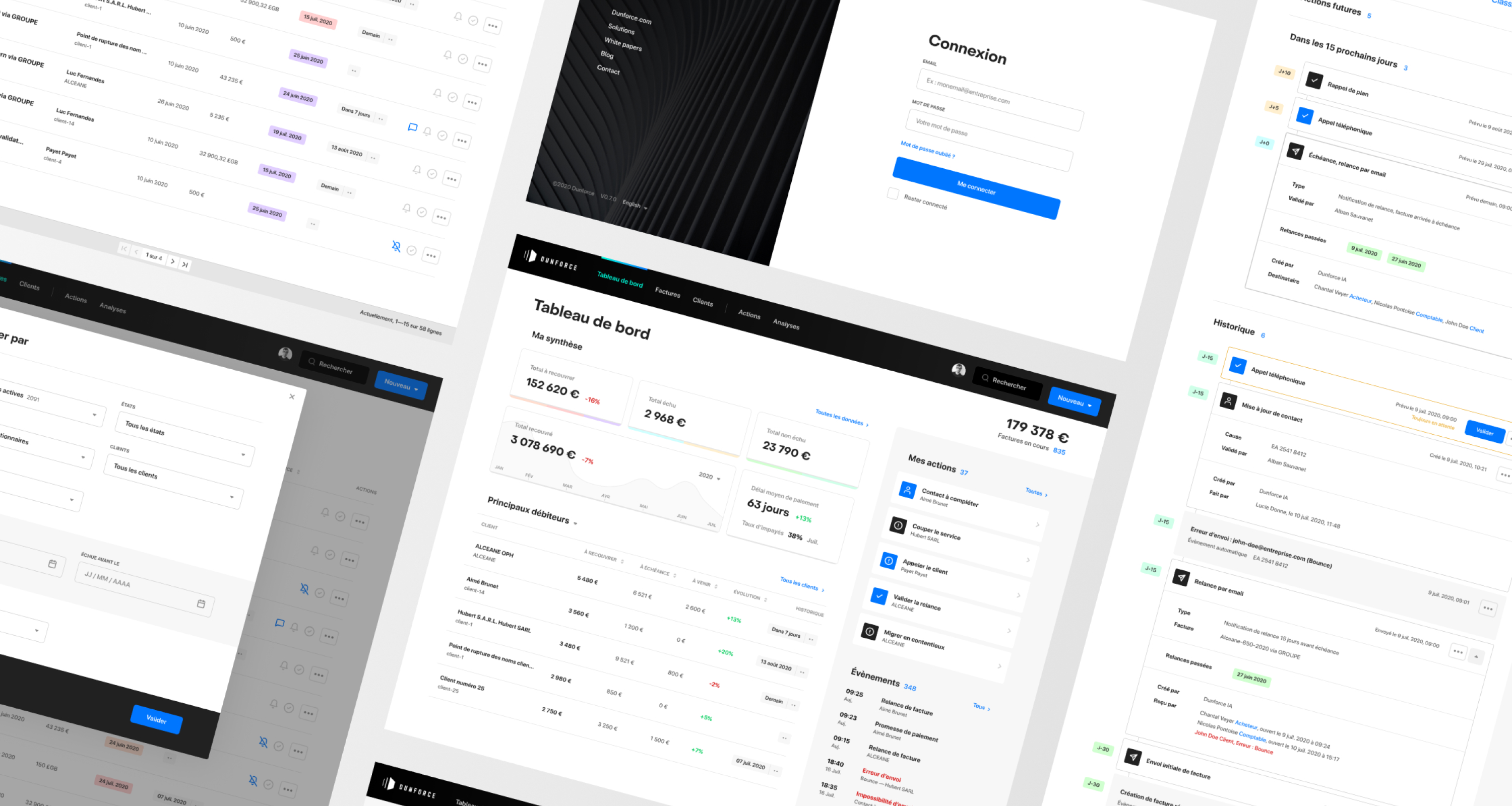 Art direction
Design
Consulting
Client — Dunforce
Art direction, Design, Consulting — Pierre Ragois
Project management — Alban Sauvanet, Lucie Donne, Nina Delcroix
Developpment — Paul Maillardet, Jordan Usoulet
Helping the team at Dunforce rethink its product design, identity and key user experiences.
01/
background
Dunforce is an European SAAS start-up whose mission is to modernize the difficult task of invoice dunning for businesses large and small. Like many digital services, years of updates stacked on top of each other have built an experiential legacy that has greatly complicated the use and understanding of its platform. After reaching a strategic point in its development, the Dunforce team then seized this opportunity to redefine its product design, identity and key user experiences.
Dunforce est une start-up SAAS européenne dont la mission est de moderniser la tâche difficile de relance de factures pour les entreprises petites et grandes. Comme beaucoup de services numériques, des années de mises à jour empilées les unes sur les autres ont construit un héritage expérientiel qui a fortement compliqué l'utilisation et la compréhension de sa plateforme. Après avoir atteint un point stratégique dans son développement, l'équipe de Dunforce a alors saisi cette opportunité pour redéfinir son design produit, son identité et ses expériences utilisateur clés.
/
login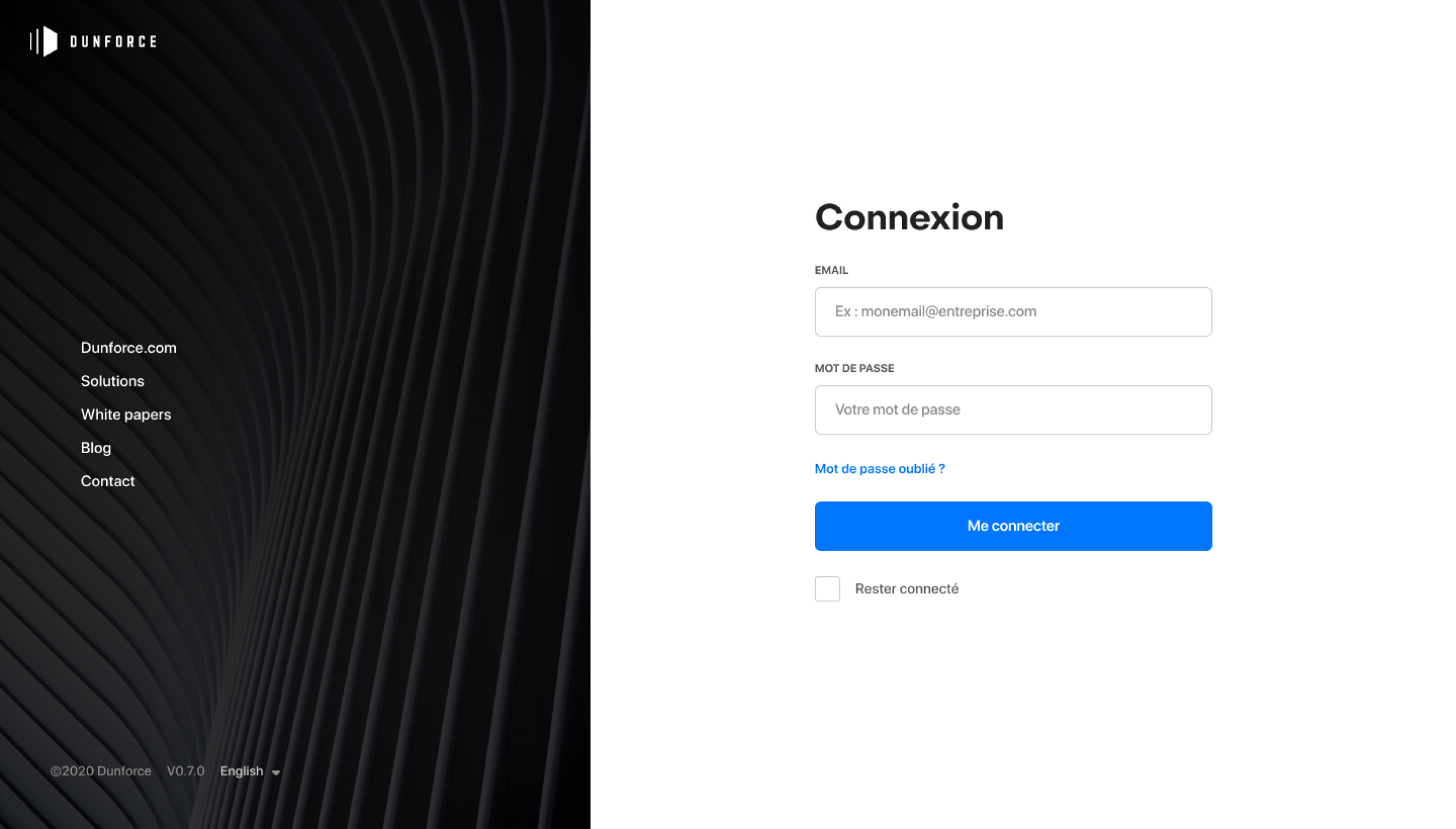 02/
challenges
Simplifying while standardizing the visual product experience and then giving meaning to user journeys were undoubtedly the two most important missions of this project. During a global design overhaul, simplification is always a hard-earned effort, especially for digital services that are several years old. Between the habits of stakeholders and users, ergonomic inconsistencies or content that may or may not be accessible, the challenges are never lacking.
Simplifier tout en uniformisant l'expérience visuelle produit puis redonner du sens aux parcours utilisateurs étaient sans aucun doute les deux missions les plus importantes de ce projet. Lors d'une refonte globale de design, la simplification est toujours un effort durement gagné, en particulier pour les services numériques vieux de plusieurs années. Entre les habitudes des parties prenantes et des utilisateurs, les incohérences ergonomiques ou les contenus peu voir pas accessibles, les challenges ne manquent pas.
/
dashboard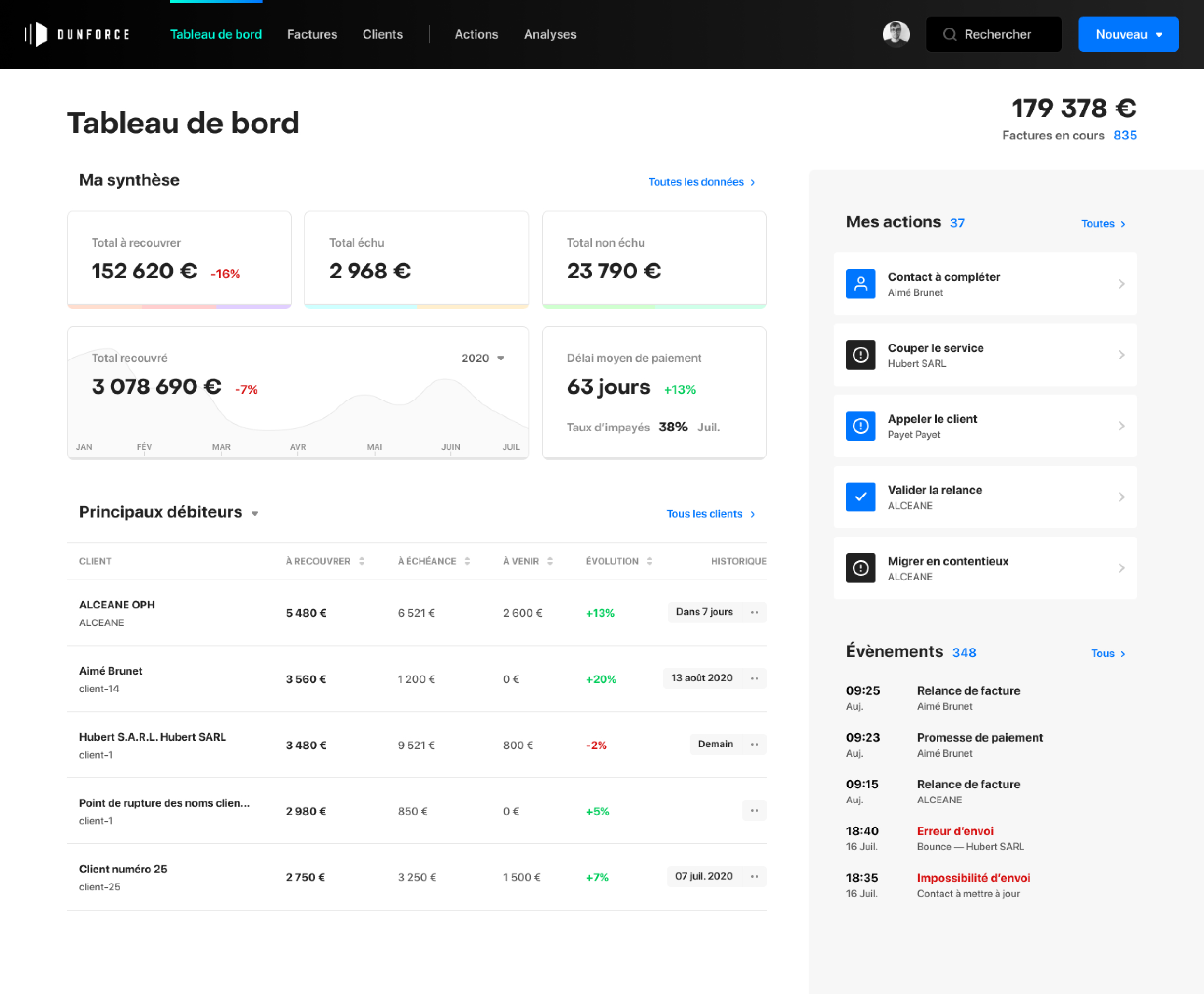 03/
solutions
In order to resolve this complex equation, one of my first reflexes was to carry out work on two axes: spreading a new identity within the product and rationalizing uses by unifying a major part of its strategic pages. With the constant support of Dunforce's teams and thanks to the research within its user base, we were able to question each feature, each user journey.
The result, an exceptional tour de force: we almost halved the historical architecture of the product and considerably increased the understanding of its service at the first level. Its functional promise then became easy to take in hand just like its future evolution.
Afin de résoudre cette équation complexe, l'un de mes premiers réflexes fut de mener un travail sur deux axes : faire rayonner une nouvelle identité au sein du produit et rationaliser les usages en unifiant une majeure partie de ses pages stratégiques. Avec le soutien constant des équipes de Dunforce et grâce à leur recherche auprès des utilisateurs, nous avons pu questionner chaque fonctionnalité, chaque parcours utilisateur.
Le résultat, un tour de force exceptionnel : nous avons divisé quasiment par deux l'architecture historique du produit et augmenté considérablement la compréhension de son service au premier niveau. Sa promesse fonctionnelle est alors devenue facile à prendre en main tout comme son évolution future.
/
key screens