Girondins.com
Getting free of design legacy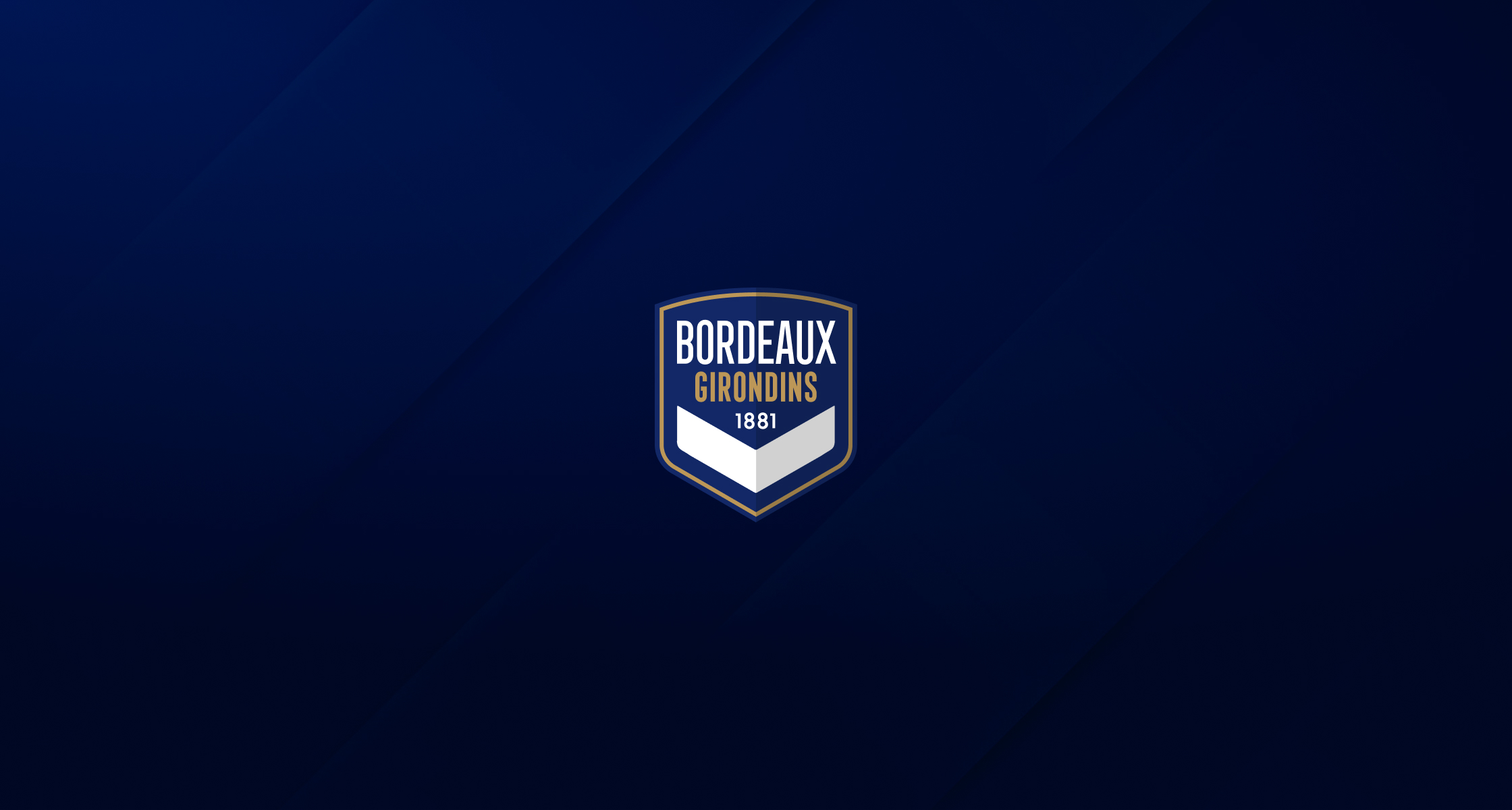 Art direction
Essential Design
Client — Girondins de Bordeaux
Art direction, Design — Pierre Ragois
Creative direction — William Doret
UX — Pauline Croix, Baptiste Fauvel
Project management — Olivier Palud, Marjory Scaultz
Development — Webedia
Setting the art direction and design of the new girondins.com website, Bordeaux's legendary soccer team.
01/
background
Founded in 1881, Les Girondins is one of the most famous French League 1 soccer teams. From its long and very successful past to the struggles of its most recent years, the club has helped shape in many ways the history of French football.
After a change of management and a new visual identity, the next step was logically a complete overhaul of its official website. Living in Bordeaux myself for a few years, setting the art direction of such legend was a true honor.
Fondée en 1881, Les Girondins est l'une des équipes de football de Ligue 1 les plus célèbres de France. De son glorieux et long passé aux combats de ses dernières années, le club a à bien des égards contribué à façonner l'histoire du football français. Après un changement de direction et une nouvelle identité visuelle, la prochaine étape était logiquement une refonte complète de son site web officiel. Vivant moi-même à Bordeaux, définir la direction artistique d'une telle légende était un véritable honneur.
/
homepage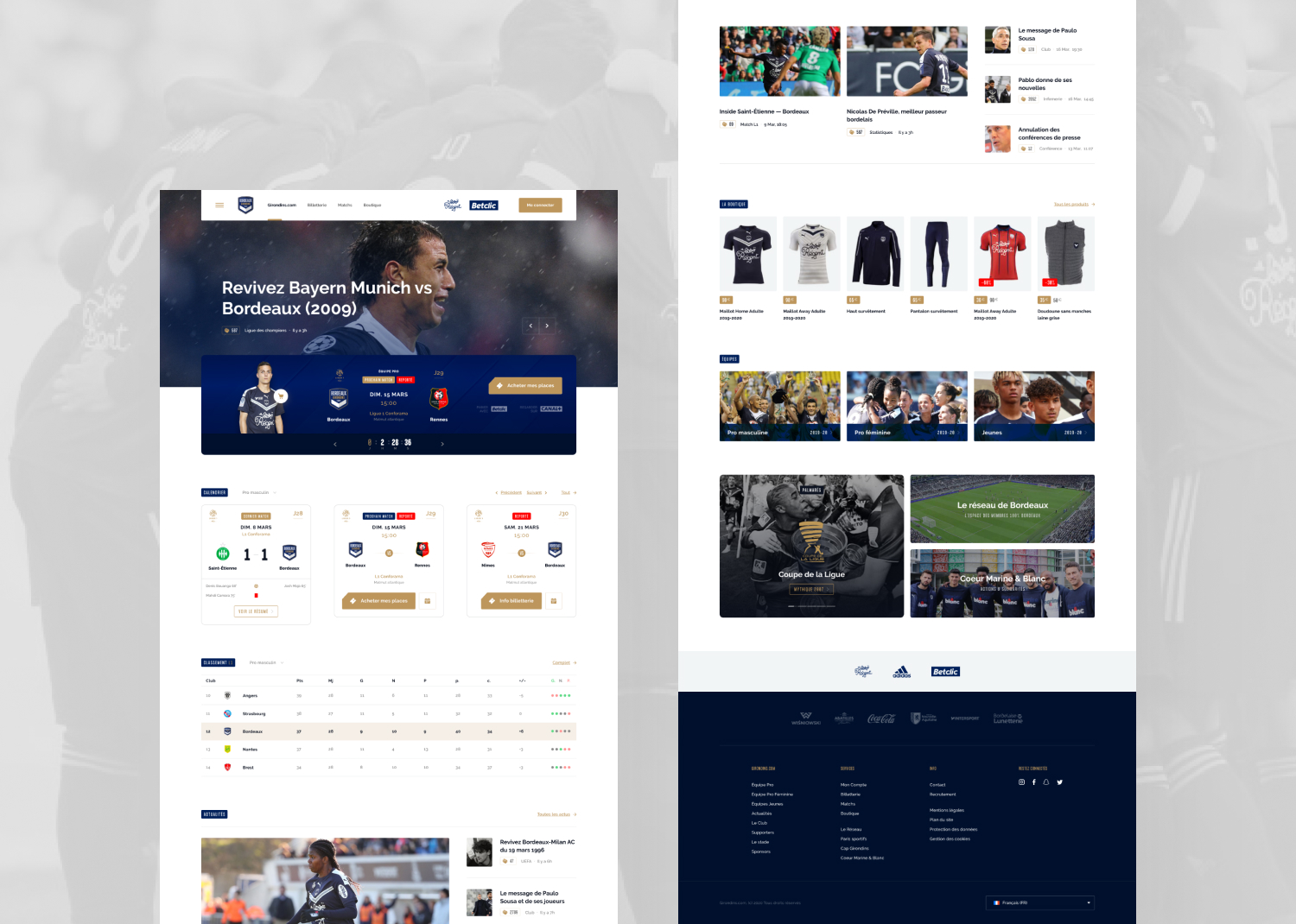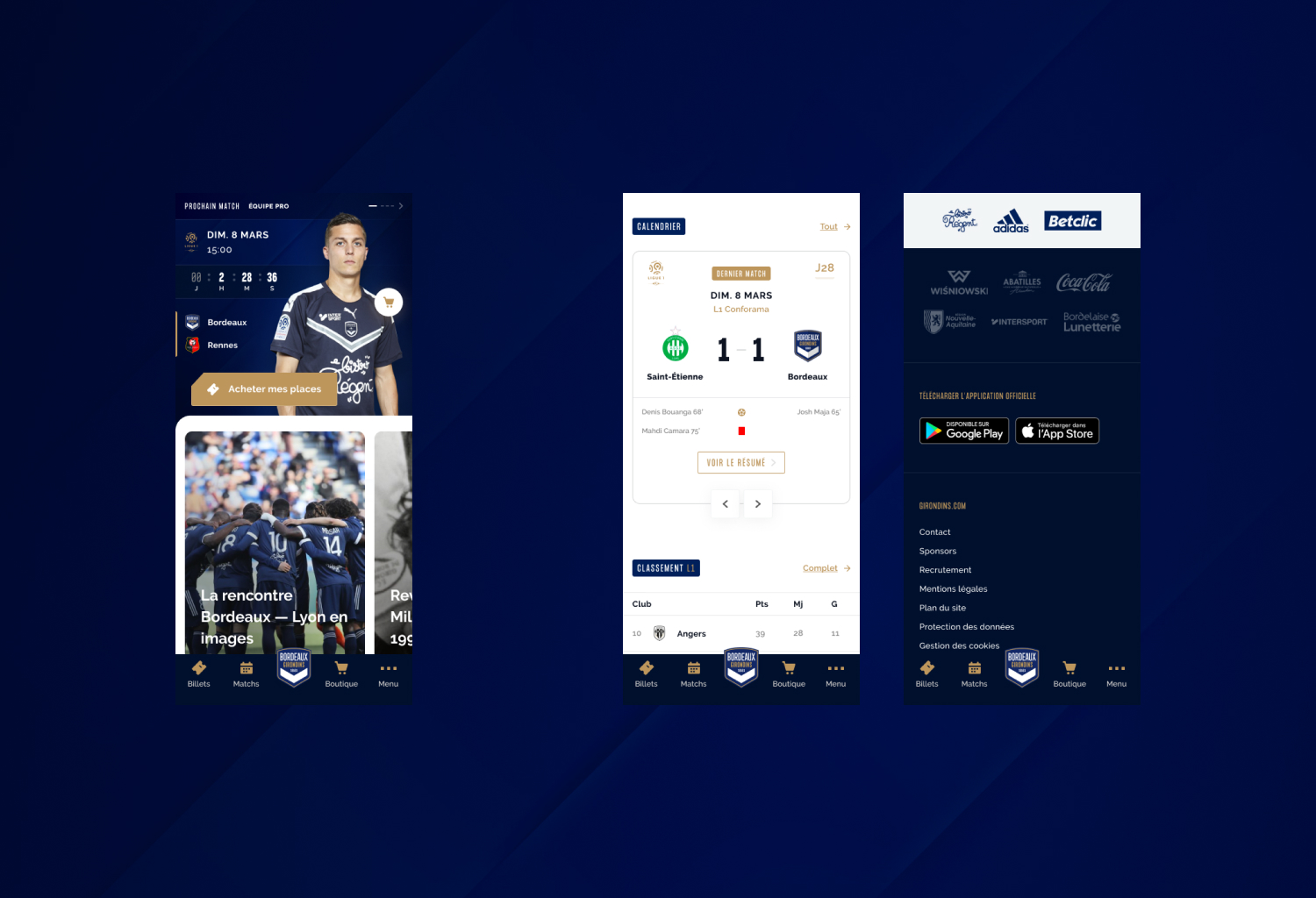 /
colors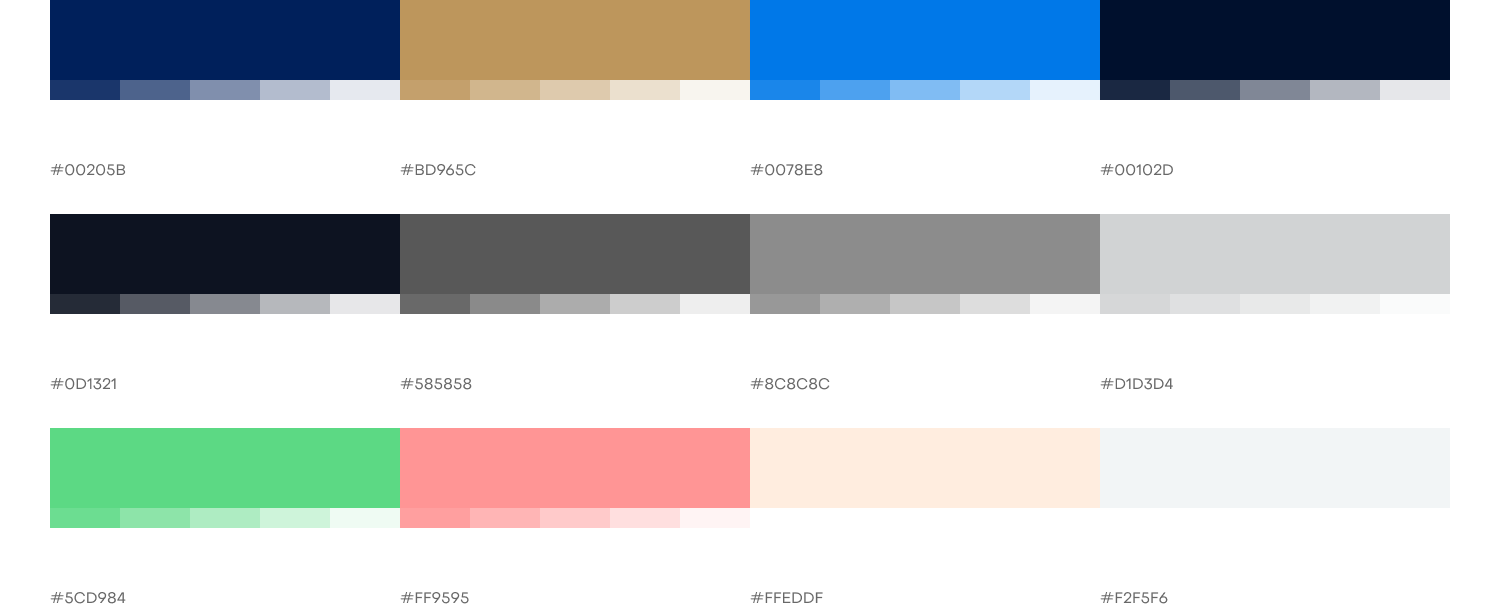 The digital color chart has been expanded to accommodate pastel tones, softening its ensemble dominated by colors sometimes too powerful.
Le nuancier numérique a été élargi pour accueillir des tons pastels, adoucissant son ensemble dominé par des couleurs parfois trop puissantes.
02/
challenges
The Girondins website has had an honorable existence for the past decade but like all major platforms of its time, it ended up being cluttered with a plethora of digital modules and strategies. With the arrival of a new shareholder, the brand has undergone a complete makeover: its identity and its entire structure have been entirely redefined.
Staying true to its century-old history while enhancing its new identity, applying concepts of Essential Design where possible while achieving a very dense list of functionalities, these are in a few words the many missions that have occupied me on this project.
Le site web des Girondins a eu une existence honorable pendant la dernière décennie mais comme toutes les grandes plateformes de son époque, il a fini par être encombré d'une pléthore de modules et stratégies numériques. Avec l'arrivée d'un nouvel actionnaire, la marque a connu un redesign complet : son identité et l'ensemble de sa structure ont été entièrement redéfinit.
Rester fidèle à son histoire centenaire tout en valorisant sa nouvelle identité, appliquer des notions de Design Essentiel là où cela était possible tout en réalisant une voilure fonctionnelle très dense, voilà en quelques mots les nombreuses missions qui m'ont occupé sur ce projet.
/
key screens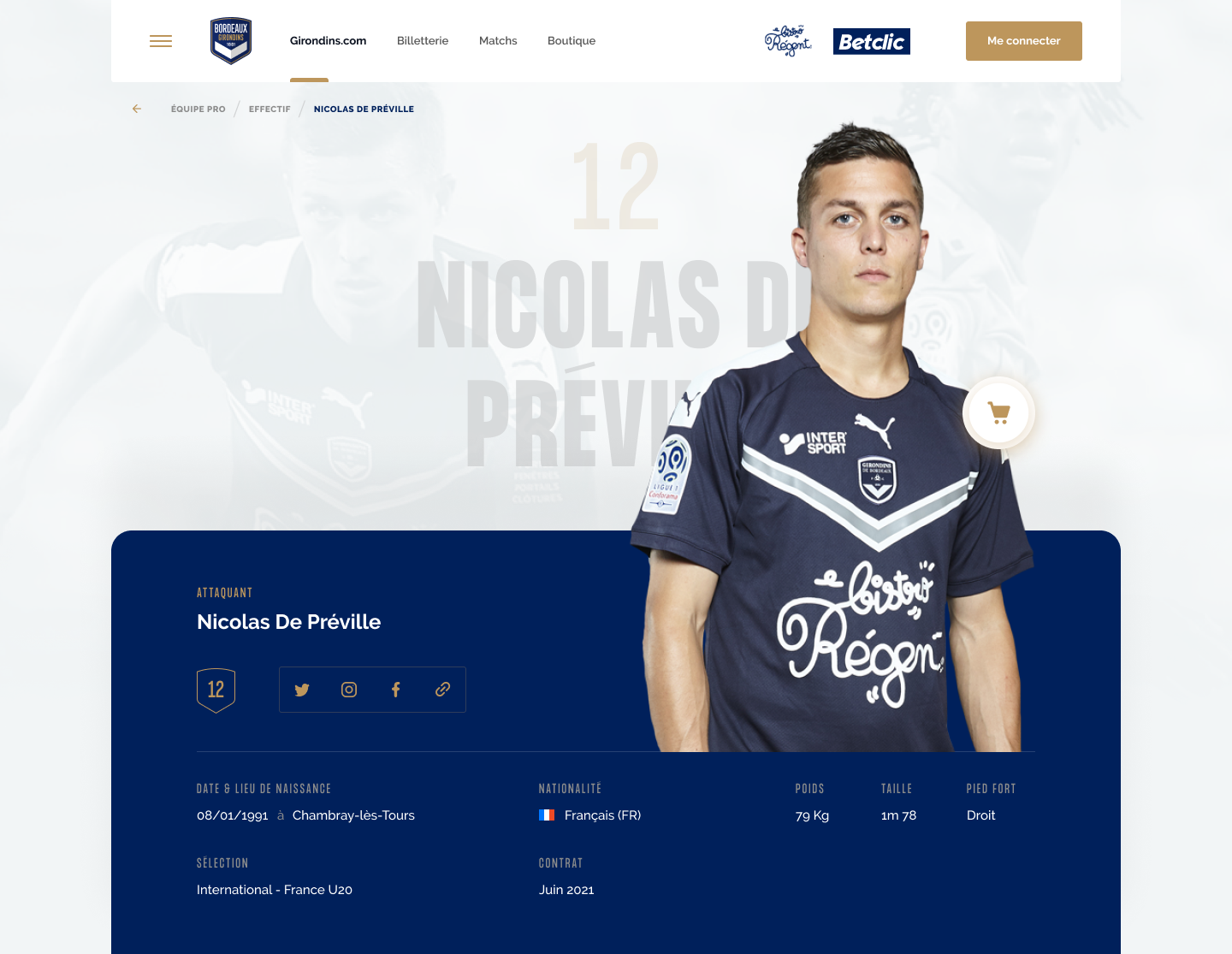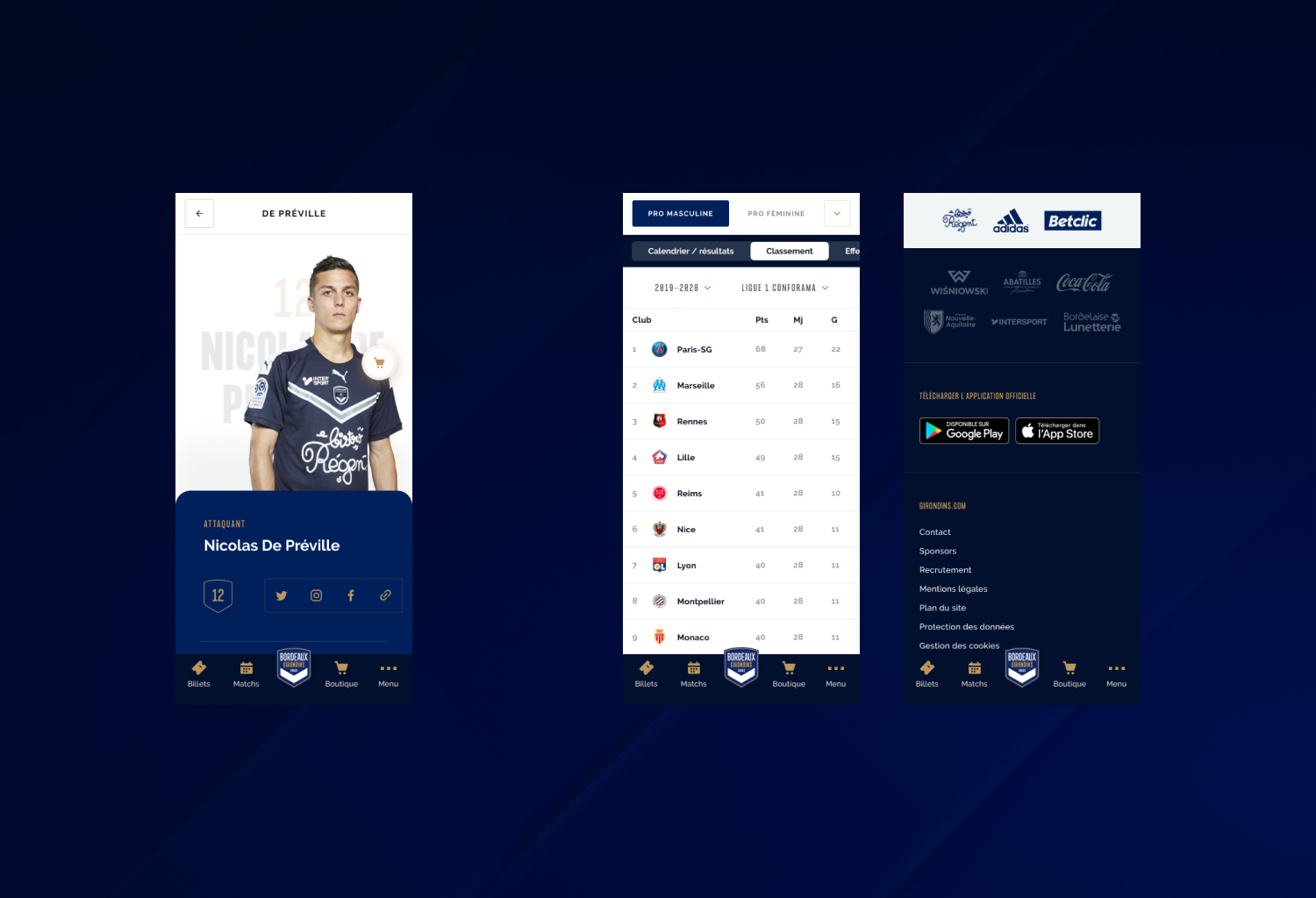 03/
solutions
It is not a surprise that the teams mobilized on such a dense project are themselves just as numerous. One of my first priorities was therefore to integrate myself as effectively as possible into the processes of the stakeholders by adopting the methods used and promoting exchanges throughout the production.
Regarding the design and art direction, the constraints were important enough for the choices to be easily identifiable on the elements of typography, colors or content grid. I therefore sought as a priority to simplify contents so that the relationship to information could remain both light and sufficiently detailed, a major need for this type of digital juggernaut. The result is a significant gain in loading time for each page compared to the historical version, especially for the home page. This limitation of loaded data is reflected in the moderate use of images and video and combined with a less gargantuan architecture, the overall footprint of the site has been, I hope, sufficiently reduced.

UPDATE SEPT 2021 — Les Girondins de Bordeaux were bought in the summer of 2021 by Gérard Lopez. One of Lopez's first decisions was to return to the club's historic logo. The mockups presented here are therefore no longer up to date.
Ce n'est pas une surprise si les équipes mobilisées sur un projet aussi dense sont elles-mêmes tout aussi nombreuses. L'une de mes premières priorités fut donc de m'insérer aussi efficacement que possible dans les processus des intervenants en faisant miennes les méthodes utilisées et en favorisant les échanges durant l'ensemble de la production.
Concernant le design et la direction artistique, les contraintes étaient suffisamment importantes pour que les choix soient facilement identifiables sur les éléments de typographies, de couleurs ou de grille de contenu. J'ai donc cherché en priorité à simplifier et aller à l'essentiel pour que le rapport à l'information puisse rester à la fois léger et suffisamment détaillé, un besoin majeur pour ce type de mastodon numérique. Le résultat, un gain important en temps de chargement pour chaque page par rapport à la version historique, notamment pour la page d'accueil. Cette limitation de données chargées se retrouve dans l'usage modéré d'images et de vidéo et combiné à une architecture moins gargantuesque, l'empreinte générale du site a été, je l'espère, suffisamment réduite.

MAJ SEPT 2021 — Les Girondins de Bordeaux ont été rachetés à l'été 2021 par Gérard Lopez dont l'une des premières décisions fut de revenir au logo historique. Les maquettes présentées ici ne sont donc plus à jour.
/
states & stats